Health Savings Accounts
The healthy, tax free way to pay for your medical expenses.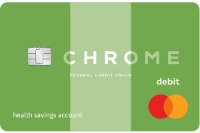 Staying healthy is a priority. That's why we want to help you be prepared for whatever may come. A CHROME Health Savings Account (HSA) allows you to worry less about medical costs, and focus more on health. 

An HSA is a tax-advantaged savings account used to pay for qualified medical expenses, current or future. With money from this account, you pay for healthcare expenses until your deductible is met. Any unused funds are rolled over year after year and accumulate towards future healthcare expenses.
Benefits
All contributions are pre-tax*
Direct deposit from your paycheck
Can be used on any qualified medical expense (vision, dental, etc.)
Any unused funds roll over the following year (no use it or lose it here)
Earn dividends on your deposits
Manage your funds online or on your mobile app
Features
No minimum balance
No monthly fee
Free HSA debit card
Pay bills directly from your account
Requirements
Must be covered by a high deductible health plan (HDHP)
Cannot be claimed as a dependent on taxes
Must not be covered by Tricare, Medicare, or medical FSA's
Must not have received or accessed VA medical benefits in the past 90 days
Call 724.228.2030 to speak to a CHROME Rep or
visit a branch
to get started!
*Please consult a tax advisor for more information. Any withdrawals used for non-qualified medical expenses before or after age 65 will incur tax.