Are you ready to shine?
Our CHROME employees are deeply committed to the community and to each and every member.
CHROME is more than just someplace to bank, we invest in WOW moments.
These are the words we live by:
Caring
Human
Responsible
Open to Change
More Than the Member Expects
Excellent
CHROME Federal Credit Union is an Equal Employment Opportunity Employer.
Why do I love working at CHROME?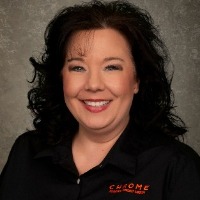 I enjoy helping members and CHROME gives me the ability to make decisions that are in the best interest of our members.
CHROME provides opportunities to serve our community.  We can volunteer for CHROME-sponsored events.  We are also given volunteer hours that allow me to choose where I want to volunteer.
-Melissa McMurdy, Assistant Team Lead, CHROME Care
10 years at CHROME Federal Credit Union
What do I think is the CHROME difference when it comes to employees?
I love the fact that I work for a company that actively makes a difference in their communities, members and employee's lives by thinking outside the box and trying new things.
Everything from helping small businesses by purchasing lunch from local restaurants for employees during the pandemic to giving gas stipends to employees at a time of high gas prices and inflation. Those are things companies thousands of times bigger than us don't offer!
-Tony Vincequerra, Loans Servicing Specialist
8 years at CHROME Federal Credit Union
How does CHROME foster employee's professional growth?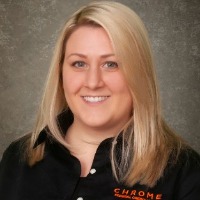 I love my job because it's not a job, it's a career that fosters growth and endless opportunities. I came to CHROME as a teller and have since worked my way up to Assistant Team Lead in the almost 4 years I have been here. The reason I have been able to accomplish and learn so much is because my peers and my leadership team WANT me to succeed, they PUSH me to succeed.
They believe in me even when I don't.  I am frequently offered an array of training opportunities including seminars and conferences, my benefits package is generous and leadership works with me to help me keep a work/life balance which allows me to be there for the important parts of my family's lives. I am confident when I say that I will retire from CHROME FCU.
-Alaina Kopanic, Assistant Team Lead, Washington
3 years at CHROME Federal Credit Union