Who is CHROME?
We started in 1971 as Washington Steel Federal Credit Union. We served the hard-working employees of the Washington Steel Company. We were always committed to helping our neighbors save, borrow, and live better, so we became Washington Community Federal Credit Union and began to serve the whole community. Even then, we wanted to do more.
We began by rethinking our roots, our identity, and the impact we could have in the community. We rebranded ourselves as CHROME Federal Credit Union to reflect how we began by serving the employees of Washington Steel Company and then growing to serve the entire Washington community.
We listened to what our members wanted, learning about how they lived, and simplifying our products. We built CHROME to represent and serve our members. We became one with the community, and our members became one with us.
Today, we look for ways to perform random acts of kindness. We don't let doing our job get in the way of getting to know you. We work to ensure every interaction you have with CHROME or one of our team is positive and fully meets your expectations. That is our commitment to you.
Beyond the name, the concept of CHROME is what we strive to deliver. CHROME is a metal that can be stretched and pounded, but will never break. Add the element Chromium to steel, and steel becomes even stronger.  That's us.  CHROME. Banking that shines.™

The Best of the Best Awards coordinated by local media company, Observer-Reporter, celebrates the best businesses and organizations as voted on by the community members of Washington and Greene counties. In 2022, CHROME was voted first place for Best Credit Union and Best Overall Business Washington County categories. We thank our employees and members for being the best part of CHROME.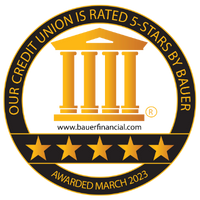 BauerFinancial, Inc.
is the source for unbiased, independent bank and credit union star-ratings. No institution pays for its rating, no
r can they avoid a rating.
BauerFinancial, Inc. has been analyzing and reporting on the financial condition of the nation's banking industry since 1983. This practice, along with an excellent track record, has earned the respect of regulators, bankers and consumers across the country. CHROME Federal Credit Union has held a 5-star rating, quarter after quarter, focused on members, CHROME's sound strength ensures we maintain a position of confidence and trust.
The Dora Maxwell Social Responsibility Community Service Award honors credit unions excelling in community relationships and external activities that serve the community. CHROME Federal Credit has been recognized by CrossState Credit Union Association as the honoree for 2023. As the Pennsylvania & New Jersey state-level recipient, CHROME will represent both states (in the $50-250 Million asset category) in the national contest hosted by the Credit Union National Association (CUNA), the premier trade association representing over 95% of the 5,200 credit unions nationwide. Read more about CHROME's award for Dora Maxwell.